I love this quote.
There's nothing, and I do not mean this sarcastically, nothing as attractive to the religiously adjacent as some light blasphemy. https://t.co/bdrL0Wz3kO

— Flip California State Senate 38! (@FlipperForty) November 4, 2022
We'll make this first part fairly brief, partly because Joseph has already given us a good overview of last week in crypto and partly because Matt Levine (in his essential newsletter) warns us we don't want to spend too much time staring into this abyss.
If a troubled company has a few days to beg potential investors for a bailout before it files for bankruptcy, and it sends those investors its balance sheet so they can consider investing, and they all pass, and then the company files for bankruptcy, of course the balance sheet was bad. That is not a state of affairs that is consistent with a pristine fortress balance sheet.
But there is a range of possible badness, even in bankruptcy, and the balance sheet that Sam Bankman-Fried's failed crypto exchange FTX.com sent to potential investors last week before filing for bankruptcy on Friday is very bad. It's an Excel file full of the howling of ghosts and the shrieking of tortured souls. If you look too long at that spreadsheet, you will go insane.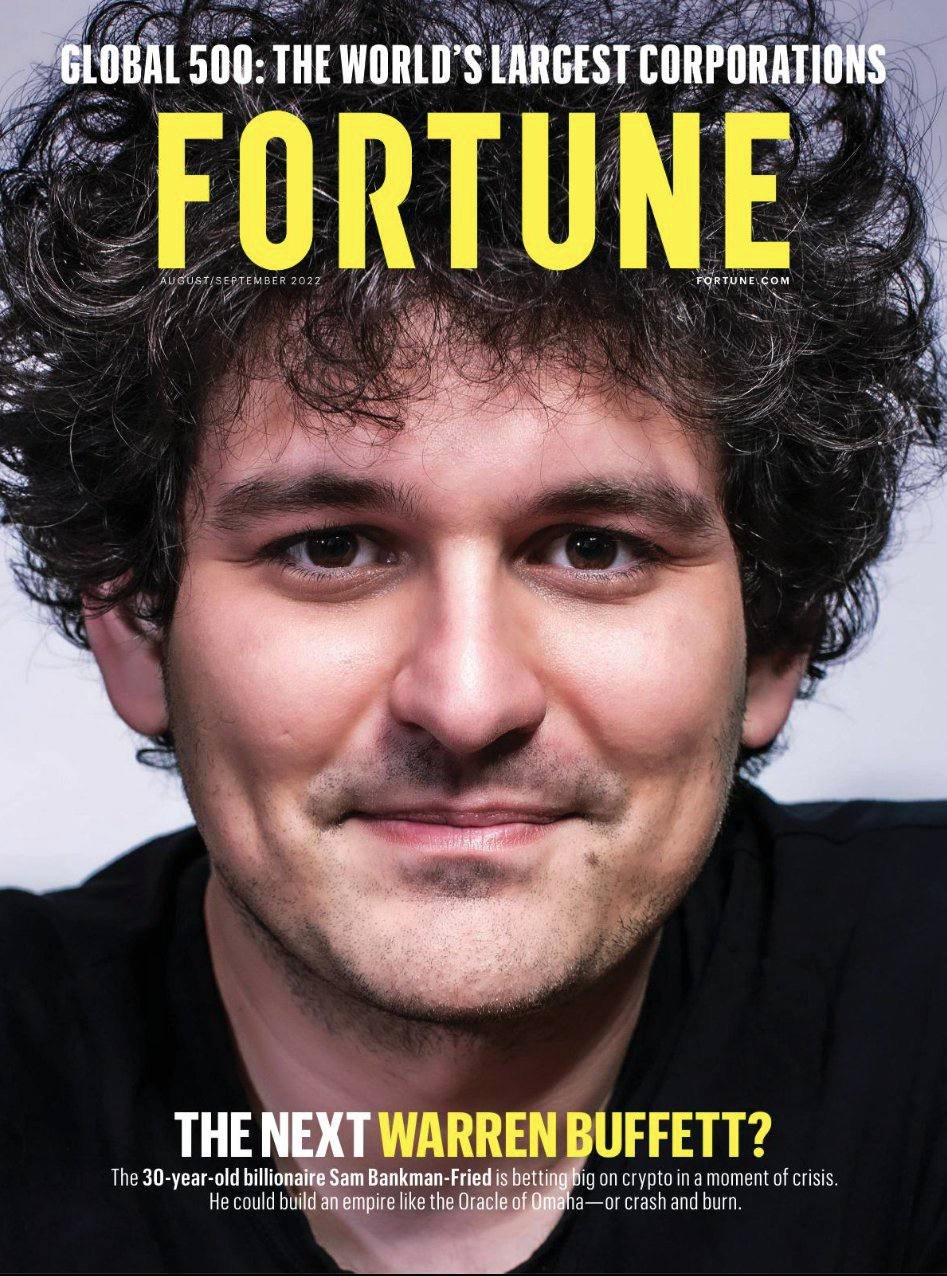 November 14, 2022
Hey Kara and Professor G: still making good choices? #ToldYa https://t.co/z7zoHXsgmP

— Grady Booch (@Grady_Booch) November 12, 2022
Narrator: the skeptics did not, in fact, overplay it. pic.twitter.com/DjrIU3qVIA

— Grady Booch (@Grady_Booch) November 12, 2022
So to get this straight, the people involved in the FTX scam were all holed up in their Bahamian frat house, in a polycule banging each other, embezzling money while cracked out of their minds on amphetamines.

Buckle up, the Netflix series is going to be UNHINGED. https://t.co/N5SVIgmH68

— Stephen Diehl (@smdiehl) November 14, 2022
It's easy to feel smug about the crypto collapse, but honestly who could've predicted that an asset with no intrinsic value of any kind would eventually become worthless?

— New York Times Pitchbot (@DougJBalloon) November 12, 2022
Now moving on to Twitter. (You'd think that Sam Bankman-Fried would have had a lock on most embarrassing business news, but no.)

I keep trying to look away, but it's just so beautiful. pic.twitter.com/DmpI8poZsu

— David C Bell (@MovieHooligan) November 13, 2022
https://t.co/iL5UbHwmSP https://t.co/5u3gpZs5s7 pic.twitter.com/wkvxjqk8y1

— Matt Pearce 🦅 (@mattdpearce) November 13, 2022
This is a lie. I ran this program up until a week ago when I resigned because I didn't want to work for @elonmusk For breakfast & lunch we spent $20-$25 a day per person. This enabled employees to work thru lunchtime & mtgs. Attendance was anything from 20-50% in the offices. https://t.co/0OjbeComka

— Tracy Hawkins  (@_hawko) November 13, 2022
As the former tech lead for timelines infrastructure at Twitter, I can confidently say this man has no idea wtf he's talking about https://t.co/ZaVWpzqMxU

— Ben Leib (@bgleib) November 13, 2022
This last one applies to all of Musk's businesses.
my favorite musk tweets are when he skims emails from his engineers and clumsily regurgitates phrases he clearly doesn't understand because he likes to pretend to be involved in the technical stuff

— satanic butthole enthusiast (@stupidestMirror) November 13, 2022
A bold move, to fire key developers who understand Twitter's codebase and speak truth to your power.

Elon is the most incompetent and toxic manager of any software-intensive system than I have ever seen (and in my many years of experience I have seen quite a few). https://t.co/CUgrRUNLPU

— Grady Booch (@Grady_Booch) November 14, 2022
Of all of the tweets from fake accounts, this shout out to the age of banana republics is my favorite.
November 10, 2022
You've now got new fake accounts spoofing the apology of the real account for the behavior of the other fake accounts. pic.twitter.com/xvgFQTn6zi

— Josh Marshall (@joshtpm) November 11, 2022
You know what this story needs? A TED connection.
Only a few weeks ago, TED's owner (and a friend of Musk's) wrote a thread defending Musk's purchase of Twitter. That thread aged like milk. https://t.co/CpcfMjQzg4

— ella dawson (@brosandprose) November 10, 2022
And some questionable ethics.
November 14, 2022
Some history here. SpaceX also bought SolarCity bonds when SCTY was in deep distress. Congratulations, SpaceX investors; your company has become the Dutch boy putting his finger into Elon's leaking Twitter dike. https://t.co/HxMjhxFFTU

— Montana Skeptic (@montana_skeptic) November 14, 2022
Interesting thread on the wave of non-parody frauds hitting Twitter.
It's a Thursday, and a variety of Twitter accounts with GAN-generated faces have paid $8 for a blue checkmark. #BlueCheckShenaniGANS

(GAN = "generative adversarial network", the AI technology used by tools like https://t.co/AxF5724n8M)

cc: @ZellaQuixote pic.twitter.com/qyotNJMDXL

— Conspirador Norteño (@conspirator0) November 10, 2022
Unmodified GAN-generated faces (so far) have the telltale trait that the main facial features (especially the eyes) are in the same position on each image. This becomes evident when one blends the images together. pic.twitter.com/gSAzDyocAX

— Conspirador Norteño (@conspirator0) November 10, 2022
Additionally, vestigial heads near the edges of the image (sometimes referred to as "side demons") and malformed glasses or goggles that sometimes blend into the face or are unrealistically asymmetrical are also fingerprints of GAN-generated pics. pic.twitter.com/nXrzQHsxzv

— Conspirador Norteño (@conspirator0) November 6, 2021
General Muskiness.

Typical #ElonMusk B$. The dude flies in on a polluting private plane at 12:13am & shows up at HQ around 1am when virtually nobody is there, then he tells everyone at 6:14am he's been there all night working hard. Likely just eating all the extra 'free' food @C_S_Skeptic #twitter pic.twitter.com/WIvUi2Idvi

— I AM IRON MAN (@IAMIRONMAN7) November 14, 2022
Hello @elonmusk we offered you a chance to comment prepublication, but we didn't hear back. How about an interview where we go down the list one by one? Your answers reprinted in full, verbatim. https://t.co/9W61vRDynK

— Russ Mitchell (@russ1mitchell) November 14, 2022
Joseph already mentioned this but it bears repeating.
I want to dig in for a bit on this set of Slack replies from a Twitter manager talking about undoing some of the layoffs. pic.twitter.com/WMBB0kdXOi

— William Pietri (@williampietri) November 12, 2022
What a gruesome spectacle. Here's a gift link for those who do not subscribe. https://t.co/mgVPxzkLIR https://t.co/8qYmXRWAbv

— Jay Rosen (@jayrosen_nyu) November 14, 2022
A story in four parts pic.twitter.com/ZrLnLQYBdi

— mr vape and watch (@SixTwoPoo) November 14, 2022
Musk was betting heavily on the red wave, which segues neatly into our next topic.

The Owner is now telling people to vote Republican. Interesting business model this is becoming. pic.twitter.com/kxegAPGjFm

— Ron Filipkowski 🇺🇦 (@RonFilipkowski) November 7, 2022

And saving the best schadenfreude for last...
I have to thank @chrislhayes for broadcasting the most satisfying 2-minutes of television I've watched today. A perfect encapsulation of what Fox News has looked like over the past several months. pic.twitter.com/VTtV4KijYf

— Craig Harrington (@Craigipedia) November 10, 2022
I will say this again: decent objective polls were pretty dang accurate. It was the analysis that was bad, & the forecasting models based on flawed assumptions. Been saying this for months. I had said before Election Day that Dems would keep Senate and House would be close.

— Matthew Dowd (@matthewjdowd) November 13, 2022
Back in August, Rick Scott published an open letter to the "American Job Seeker," warning him not to apply for an IRS job bc "Republicans will take over the House and Senate" in 2023 and eliminate the new funding. https://t.co/xgYYYkFIiL pic.twitter.com/nMUI6lCRcM

— David Weigel (@daveweigel) November 13, 2022
My "We're not a cult" t-shirt has people asking questions already answered by the shirt https://t.co/w3sTcrr8uU

— Jonathan Chait (@jonathanchait) November 13, 2022
has the dust settled? https://t.co/4QYZUwBkYB

— John Harwood (@JohnJHarwood) November 13, 2022
Chief purveyors of Hopium this cycle were clearly @TomBevanRCP and @SeanTrende.

Wasn't the Democrats. https://t.co/mN7LK85YeY

— Simon Rosenberg (@SimonWDC) November 13, 2022
RCP had CO and WA Senate races as tossups.

We are winning CO by 13 pts, WA by 14. Bullshit machine behind the "red wave" narrative was something.

— Simon Rosenberg (@SimonWDC) November 13, 2022
"There is so much to explore, learn about, and share in our world. Speculating about what's going to happen in the next election is about the least useful insight to add." —Fallows.

Agreed. But it's easy, cheap, portable, and presents as not ideological. https://t.co/oqNRyaRv37

— Jay Rosen (@jayrosen_nyu) November 12, 2022
Alex Jones & Roger Stone are concerned that a lot of Republicans didn't bother voting because they now think all elections are rigged. pic.twitter.com/VVNlZJ5fvf

— Ron Filipkowski 🇺🇦 (@RonFilipkowski) November 10, 2022
2/2 Why, in my view, this comparison is significant:
- The circumstances are as closely comparable as they can be;
- It's the same publication, same lay out, many of the same characters;
- Yet four years ago, their theme was "let's wait to see." Now "Dems in disarray."

Jeesh pic.twitter.com/F9zy5j1ZuA

— James Fallows (@JamesFallows) November 7, 2022
<<whispers>> "joe biden is good at politics."

— Chris Hayes (@chrislhayes) November 12, 2022
And finally, a break from the snark.
Two brothers were rescued and treated at different NGOs. The reaction when they are reunited is priceless! pic.twitter.com/FKec7G8Dwu

— B&S (@_B___S) November 11, 2022