Having spoken to more than 100 sources across the history of Tesla, this absolutely checks out. "Managing Elon" is a theme that comes up again and again. https://t.co/TzIEJkr5Tb

— E.W. Niedermeyer (@Tweetermeyer) November 23, 2022
See also Marshall's "
Elon Musk and the Narcissism/Radicalization Maelstrom
" (JPM's been on a roll lately).
Harold Hill with a social media addiction. https://t.co/6HpVkA9Ukq

— Linette Lopez (@lopezlinette) November 28, 2022
Since the meltdown, quite a few journalists who had gotten a lot of mileage out of their access to Musk are doing some serious backtracking.
"There was a time when you cared about the truth"

Yeah, I'm gonna need to see some sources on this.

Where is the evidence that Elon was ever actually committed to the truth?

What time frame are we talking about here? https://t.co/ht3ZABCHYp

— E.W. Niedermeyer (@Tweetermeyer) November 23, 2022
It's more that Kara willfully chose not to see the real Musk than that he's become someone he wasn't. Has he gotten worse? Of course. But he's always been a lying, slave-driving leader who took credit for other people's work. A lot of journalists just chose to look past it. https://t.co/XbDDglg2ki

— Paris Marx (@parismarx) November 23, 2022
what a difference a few months makeshttps://t.co/vEI2M9pAbs https://t.co/MEHzC3gE7F pic.twitter.com/rnXGVmblIj

— Ed Zitron (@edzitron) November 28, 2022
This WSJ story has been getting a lot of attention. It doesn't (pardon the pun) break a lot new ground, but it does a good job pulling the story together for a wider audience.
Fantastic look at how Elon Musk's Boring Co has promised tunnels to Chicago, Maryland, LA, Ontario CA; then "went underground."

The faster-tunneling-machine company that hasn't dug faster tunnels, yet has raised >$700 M

from aces @thetrough @bykowicz https://t.co/MsAkDxDMRl

— Eliot Brown (@eliotwb) November 28, 2022
An astounding passage here from officials at the Ontario, CA airport who got ghosted by Musk which shows how much damage the Boring Company has done. They still believe digging tunnels for cars will somehow cost less than running a dedicated shuttle bus to the Metrolink station! pic.twitter.com/pl1Ov5AILW

— Alissa Walker (@awalkerinLA) November 28, 2022
And in what was probably the worst news for Twitter last week...
NEW: Documents show why Apple pulling its Twitter ads is devastating for Elon Musk: In the first quarter of 2022, Apple was Twitter's top advertiser, accounting for nearly $50M in revenuehttps://t.co/h9TWjdwFoH

— Faiz Siddiqui (@faizsays) November 28, 2022
This keeps getting better and better 👏🏽by 👏🏽the 👏🏽hour. https://t.co/8vZRKYHv5i

— Linette Lopez (@lopezlinette) November 26, 2022
Josh Marshall
points out
that the loss of ad revenue is actually the smaller part of the damage.
In addition to hate speech concerns, I'd think Apple probably has very valid security concerns if an enormous chunk of engineers are gone. https://t.co/QSXgyEy63k

— Sara Danner Dukic (@saradannerdukic) November 28, 2022
From the guy who wrote the book on Tesla.
I've been keeping an eye on our boy since 2015, and if there is one thing I can say about him for certain it's this: he has no principles of any kind, beyond his immediate self-interest. If you think he cares about your political values, you're a mark.

— E.W. Niedermeyer (@Tweetermeyer) November 28, 2022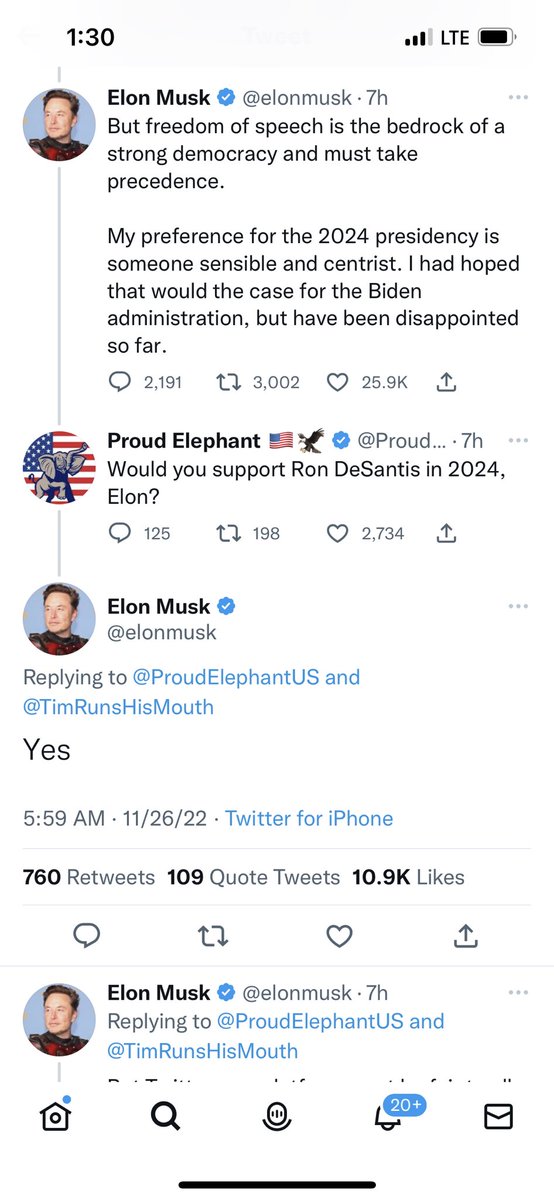 If you subscribed to Levine's newsletter, you'd already know about this.
the point here is that someone made a 12,000-pound metal sculpture of a goat with the head of elon musk riding a rocket and they're trying to sacrifice it to elon musk to obtain his favor and that's about the best financial story there is.

— Matt Levine (@matt_levine) November 28, 2022