Guess what. If you start a post in HTML view while embedding you tweets, then switch to compose view to edit, rearrange, and add comments, then switch back to HTML to add one more tweet, be careful not to hit control-z, because it will undo everything you did in compose and you can't control-y it back.

Let's start with the best show on Twitter... its owner trying to get out of fight club with some portion of his dignity.

this is truly the Canadian girlfriend of excuses pic.twitter.com/kyEHNFq0bf

— shauna (@goldengateblond) August 7, 2023
Hello, he lied. pic.twitter.com/Bfnl7El9nS

— Kara Swisher (@karaswisher) August 12, 2023
I suspect that Elon was hoping that Zuckerberg would play along and let him off the hook, but Zuck had apparently had enough.

So Musk is in "somebody hold me back" mode.

So does he need surgery or not? 🤡 pic.twitter.com/uwjETBLUNh

— LeGate (@williamlegate) August 12, 2023
In a quote tweet of this Walter Isaacson post, New York Times Pitchbot commented "One of America's most respected journalists."

Imagine leaking this to your biographer and thinking it makes you look good https://t.co/kxQJJzGHhs

— Ryan Mac 🙃 (@RMac18) August 13, 2023
Blogger does strange things so just in case it decides to crop the tweets image, here's the original.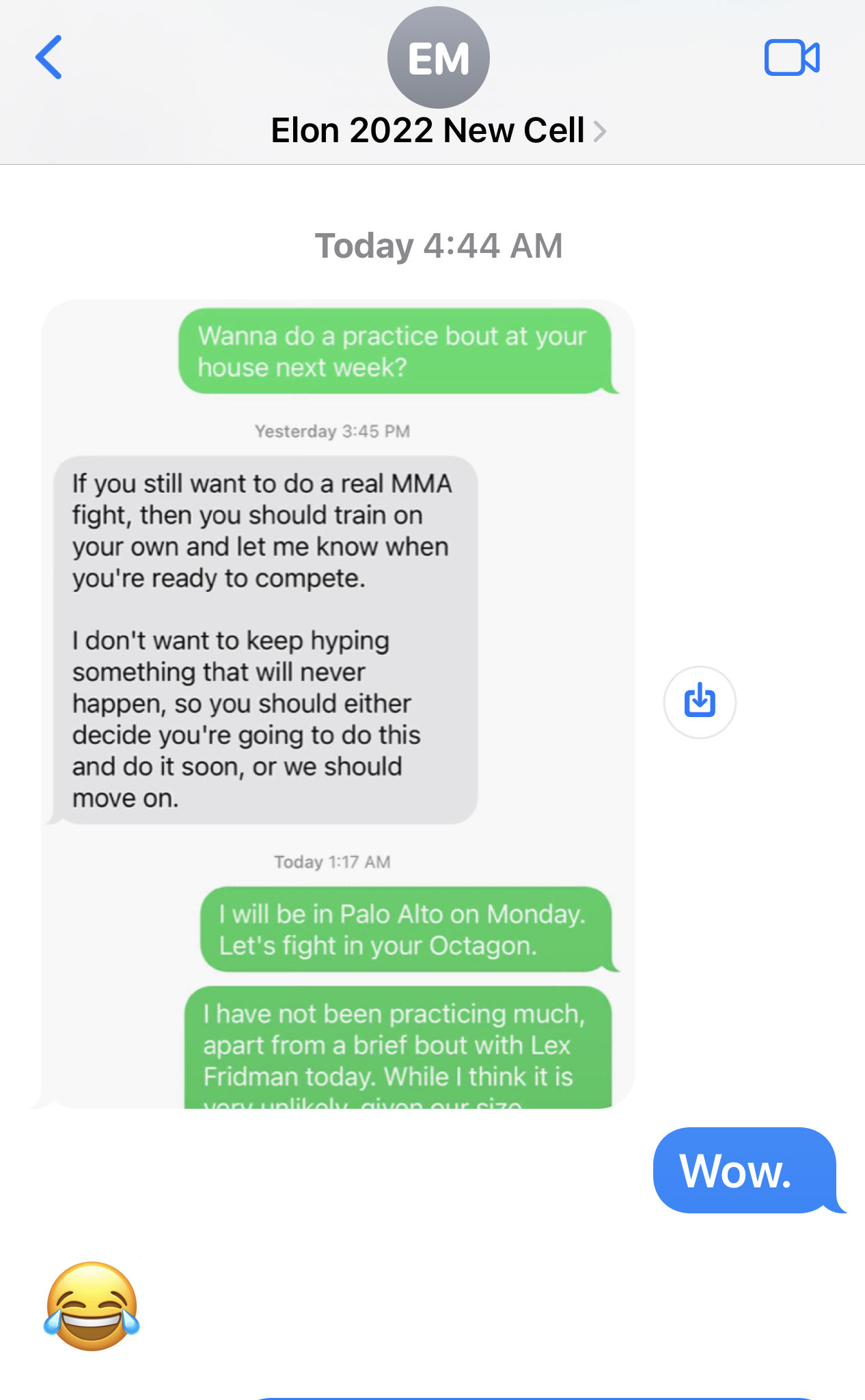 Elsewhere in the world of the site formerly known as Twitter.

3. DOJ was laser focused on getting ALL OF IT IMMEDIATELY. So urgently they asked to fine twitter 50k for day 1, 100k for day 2 and doubling every day.
4. Twitter fought hard & spent tons of $ fighting on trump's behalf.
Noteworthy-They had never before fought a subpoena in court

— Stephanie Ruhle (@SRuhle) August 16, 2023
Elon Musk hired expensive lawyers to fight a lawful search warrant to defend Donald Trump's interests.

Twitter receives court orders like this regularly, and doesn't spend that kind of money to fight them on behalf of customers.

Why the special treatment for Trump, @elonmusk? https://t.co/bNxYn6o69W

— Renato Mariotti (@renato_mariotti) August 16, 2023
This guy nails it pic.twitter.com/f6vR7avQQn

— Stop Cop City (@JoshuaPHilll) August 12, 2023
Seguing to another member of the PayPal mafia,
Quite remarkable - note the violence proposed by Thiel in particular: https://t.co/14hloTaJtQ pic.twitter.com/p5zhjppvG9

— Critical AI : first issue coming in Aug. 23! :) (@CriticalAI) August 13, 2023

And bigger news.
Smith and Willis highlight the strength of our federalist system. Smith charged under federal law; Willis under state law. Though the facts overlap, not identical. Together, they bring a full accounting of Trump's actions. She CANNOT ignore crime spree
https://t.co/5hsbcmm2lW

— Jennifer Now at Threads Rubin (@JRubinBlogger) August 15, 2023
How it started. How it's going. pic.twitter.com/525NhndYp9

— New York Times Pitchbot (@DougJBalloon) August 15, 2023
Donald Trump was indicted yesterday and today's @nytimes front page gives it a third as much space as it devoted to the infamous Hillary's Email story ... and Trump's name isn't even in the headline pic.twitter.com/2VnH5rC1aB

— Jamison Foser (@jamisonfoser) August 15, 2023
Jeff Gerth is the same credulous, ignorant, ill-informed hack who brought us Whitewater. The NYT created him. It is poetic justice for them to now know how he treats his subjects.

The NYT was not "shocked" that Mueller's investigation closed with no "collusion" arrests. Dean Baquet did not actually say anything remotely like that. One of many instances in which the Gerth series is misleading, and right at the top. https://t.co/mZHt2r87iu pic.twitter.com/aNQWTut3yp

— Andrew Prokop (@awprokop) August 16, 2023
A typical times article. The simplest answer is that the House GOPs are full of shit and simply changed their position. And the article itself struggles not to come to that conclusion. Sad. https://t.co/MfeUffqupL

— Josh Marshall (@joshtpm) August 13, 2023
"Shock and outrage over the fall of Roe v. Wade has faded as confusion has spread, deflating Democrats' hopes that the issue could carry them to victory"
Thinking about this headline from November 2022 for some reason. pic.twitter.com/NjKS1kkfqm

— Ammar Moussa (@ammarmufasa) August 9, 2023
Russian state propaganda outlets RT & Sputnik are both promoting RFK Jr's comments about US biolabs in Ukraine, which he discussed on Tucker Carlson this week.

The Tucker-to-Russia pipeline is among Russia's most successful propaganda operations, so it's worth paying attention. pic.twitter.com/VCcVKLh5lp

— Caroline Orr Bueno, Ph.D (@RVAwonk) August 16, 2023
53% of Americans say they will definitely not vote for Trump in '24, with a further 11% saying they probably won't. Here's why that's bad news for Joe Biden.

— New York Times Pitchbot (@DougJBalloon) August 16, 2023
"Oops, I made a mistake" doesn't entirely set things right for helping bring the country to the verge of fascism.
You're ridiculous. My goodness….

— Eddie S. Glaude Jr. (@esglaude) August 15, 2023
That's him.

— yvette nicole brown (@YNB) August 15, 2023
Because when you're defending your decision to spend big money addressing climate change, the last thing you want people talking about is climate change.
This you, ma'am? pic.twitter.com/Yxxd6K8Ku7

— Charles Gaba isn't paying for this account. (@charles_gaba) August 17, 2023
Desantis issues a pathetic, ridiculous statement in response to the Trump indictment, bragging that he suspended two DAs in FL, and "as president, we will lean in on some of these local prosecutors." pic.twitter.com/92O9ZjaXl9

— Ron Filipkowski (@RonFilipkowski) August 15, 2023
I'm a little more bullish on RD than Frum, but it is amazing how the consensus has shifted.
DeSantis laying the groundwork to end his campaign and endorse Trump. https://t.co/x5xHLLYwSO

— David Frum (@davidfrum) August 13, 2023
Normally, it's not the defendant who has the option of 'moving on'
Let's just move on, Bob. Forget the whole thing. What do you say, pal?

Isn't the campaign slogan, 'Never Back Down"? pic.twitter.com/j4yoaM1C8Z

— Ron Filipkowski (@RonFilipkowski) August 14, 2023
Nikki Haley is mobbed by fans and supporters. pic.twitter.com/7LRGeGvNFG

— Ron Filipkowski (@RonFilipkowski) August 12, 2023
Basically, Dean Phillips just wants attention.
Every person on this list is a Biden supporter. They aren't running against @JoeBiden because they are working to get him re-elected. Let's stop the pot stirring hype. https://t.co/C6bwUjXlhC

— Ronald Klain (@RonaldKlain) August 13, 2023
🚨Maria Bartiromo spoke about the Covid-19 pandemic with Sen. Ron Johnson (R-WI) on Friday morning.

Johnson claimed the pandemic was "all pre-planned by an elite group of people" as part of an ongoing scheme to take away Americans' freedoms. @Mediaitehttps://t.co/20GxfHuJO8

— The Intellectualist (@highbrow_nobrow) August 12, 2023
We've said before that Loeb has been feeding his considerable reputation into the woodchipper. Now he's found the best network for it.
Avi Loeb on extraterrestrial civilizations

"You can imagine that a superhuman civilization that understands how to unify quantum mechanics and gravity might actually be able to create a baby universe in the laboratory.

A quality that we assign to God."#ufotwitter #ufox #ufo pic.twitter.com/7zb2LnonoS

— UAP James (@UAPJames) August 11, 2023
The Internet Archive does good, important work, particularly as preservationists. I give them money. You should too.
Now the Washington lawyers want to destroy digital collections of scratchy 78rpm records, 70-120 year old, built by dedicated preservationists online since 2006.

Who benefits?https://t.co/xjEqLdZi7n

— Brewster Kahle (@brewster_kahle) August 13, 2023
A lot at stake in this lawsuit! If the rightsholders lose, what incentive will there be for Bing Crosby and Duke Ellington to make any more records? https://t.co/kpujXeDzrX

— Stian Westlake (@stianwestlake) August 12, 2023
Adventures in AI
Fantastic. pic.twitter.com/jBTjRqlmSF

— Ben Collins (@oneunderscore__) August 15, 2023
Going into exploitation mode (scaling up what works) can give you the illusion of fast progress when you're looking at the wrong metrics. Like "solving" air travel by forever scaling up a hydrogen zeppelin. It may seem like you can cover ever greater distances, but you're still…

— François Chollet (@fchollet) August 12, 2023
One of the ways in which the web is like an ecosystem is that a synthetic text spill in one part of it can leak into others. Here, someone has posted ChatGPT output (unclear to what end) and the Google indexed it: pic.twitter.com/EFO4N21Zek

— @emilymbender@dair-community.social on Mastodon (@emilymbender) August 16, 2023
Today's case study in: If you're going to set up a synthetic media machine where anyone can access it, you'll need to account for people throwing all kinds of random stuff at it.

>>https://t.co/m19z9rxHi0

— @emilymbender@dair-community.social on Mastodon (@emilymbender) August 12, 2023
I was surprised by a talk Yejin Choi (an NLP expert) gave yesterday in Berkeley, on some surprising weaknesses of GPT4:
As many humans know, 237*757=179,409
but GPT4 said 179,289.

For the easy problem of multiplying two 3 digit numbers, they measured GPT4 accuracy being only… pic.twitter.com/kp3TDBaWId

— Alex Dimakis (@AlexGDimakis) August 16, 2023
Notes from academia.
Here's the group that is dismantling WVU.

They have been hired as consultants at land-grant universities around the country to help shred the liberal arts. Would be sensible for people to know who they are, as more unis hire them:https://t.co/u6Ic02EtOH

— Dr. Lisa Corrigan (@DrLisaCorrigan) August 12, 2023
Again: they are not only coming after the Marxist Queer Critical Theory people. The goal is to strip public university systems to the bone in their entirety. They don't care that these are load bearing walls for the state's economy, it owns the libs. https://t.co/dwXxNhl4D7

— William B. Fuckley (@opinonhaver) August 11, 2023
Data Colada have collectively volunteered thousands of hours to improve science. Unfortunately, sometimes when you scrutinize the work of powerful people...they sue you. Together, we can stand up for science and help them defend themselves in court. https://t.co/S3GgLhmqAO

— Yoel Inbar (@yorl) August 16, 2023
And in closing...
In a series of events, all of which had been a bit thick, this, in his opinion, achieved the maximum of thickness.

— Wodehouse Tweets (@inimitablepgw) August 16, 2023