(Sometimes you just can't decide on a title.)

More fun with RFK jr (including the inevitable crypto moment).

Are we sure he's running for president of the US? pic.twitter.com/1JpRSqZNE4

— John Scott-Railton (@jsrailton) June 28, 2023
UPDATE: whoever is operating RFK Jr's twitter just pulled the tweet.

Here it is for posterity.

Permalink on @waybackmachine from @internetarchive: https://t.co/wKyxLq9Q6e pic.twitter.com/RsKFC84TU4

— John Scott-Railton (@jsrailton) June 28, 2023
Curious whether he was a Bitcoin freak before he got in with Bannon and musk? "inviolable right" lol https://t.co/C1MHQL5U7J

— Josh Marshall (@joshtpm) June 28, 2023
It's always sad when someone you admire espouses positions you find crazy, stupid or offensive. Fortunately, I've always considered Millar a talentless, third-rate Frank Miller wannabe and all around hack, so I'm pretty cool with this.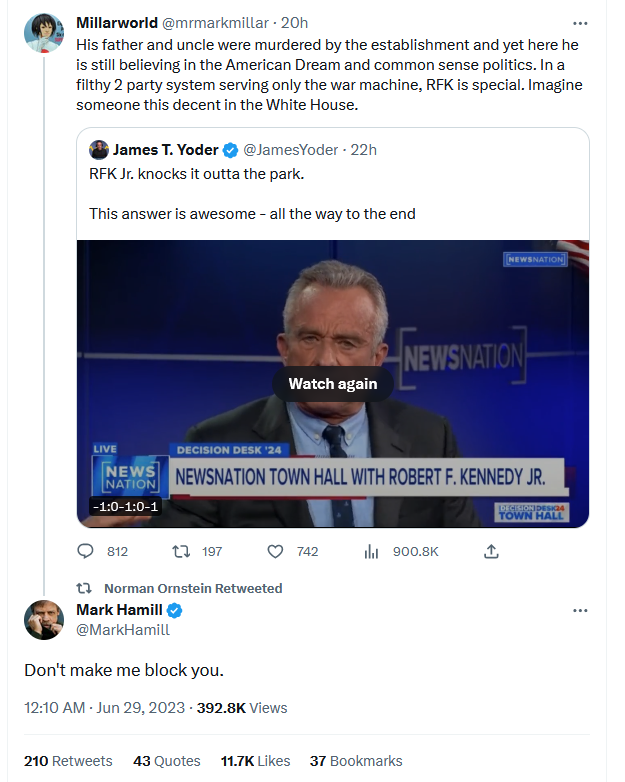 Mark Millar outing himself as a complete nutter (not a terribly surprising revelation for a lot of us) seems like a fantastic time to bring up this gem from Grant Morrison: pic.twitter.com/iNcyPJtSpO

— Josh Gilbert, Occasional Artist ✊🌘 (@ShokXoneStudios) June 29, 2023
And speaking of anti-vaxxers...

Whereby a bunch of unvaccinated MAGAs describe the symptoms of Long COVID without quite making the connection.

They are sooooo close to getting it. pic.twitter.com/VJN53MSCNS

— Brett Meiselas (@BMeiselas) June 25, 2023
So a conspiracy theorist dies & goes to heaven. God himself shows up & asks; do you have any questions?

Well, was #Covid a hoax created by Big Pharma?

God replies; "Covid was real & vaccines saved millions"

Conspiracy theorist; "Damn this thing goes higher up than I thought"

— Sander van der Linden (@Sander_vdLinden) June 18, 2023
How about some politics?
good to note this. Close to the same in almost every cycle. About like polling people with - is everything awesome? Yes/no? https://t.co/1ZlBKAztmN

— Josh Marshall (@joshtpm) June 28, 2023
I called it. Trump came up with an excuse to back out of the debate because he is afraid of Bret Baier and Chris Christie. pic.twitter.com/888MOLIkKu

— Ron Filipkowski (@RonFilipkowski) June 26, 2023
The fundamental flaw of the run-to-the-right-of-Trump strategy.
Between his new FL law and this new natl policy proposal, DeSantis has embraced the most extreme immigration/border positions of any major R in decades.

Like his 6 week abortion ban this stuff is deeply unpopular outside MAGA bubble, and is going to further degrade GOP brand. https://t.co/rVeXvbZR2x

— Simon Rosenberg (@SimonWDC) June 27, 2023
Coming from the Bible-belt, MAGA's apocalyptic tendencies have long been on my radar.
Weird apocalyptic video posted by Trump on Truth Social tonight: "This is the final battle …" pic.twitter.com/lBzgqCRYz3

— Ron Filipkowski (@RonFilipkowski) June 30, 2023
Without the socialism of Social Security benefits & Medicare payments, Florida as we know it would not exist. https://t.co/o7PgY9G2Oe

— Lawrence O'Donnell (@Lawrence) June 27, 2023
'RNC Research' cut this video right before Biden said, "Just joking." Another clip going viral today. pic.twitter.com/pxU12JDEAd

— Ron Filipkowski (@RonFilipkowski) June 26, 2023
Patel: I think it has absolutely enormous impact on Ukraine that tilts in the favor of Russia. pic.twitter.com/euUfZb5HiR

— Acyn (@Acyn) June 26, 2023
Speaking as a Watergate historian, there's nowhere on thousands of hours of Nixon tapes where Nixon makes any comment as clear, as clearly illegal, and as clearly self-aware as this Trump tape. https://t.co/JFqyfcQb8g

— Garrett M. Graff (@vermontgmg) June 27, 2023
Kyle Rittenhouse says that he empathizes with Trump because he was also persecuted. Ted Nugent, who just spoke at Trump's last rally, then claims that Michelle Obama is really a man and the Obama kids are adopted. pic.twitter.com/PKIl7GHCuu

— Ron Filipkowski (@RonFilipkowski) April 1, 2023
Yeah, that Turtledove.

This, btw, is the basic message of fascism. Return with us now to the golden days of yesteryear, when life was beautiful all the time--if you weren't black or gay or Jewish or anything else the powers that be didn't like.

So shove your Nazi-style gaslighting up your ass, Nikki. https://t.co/nWTSHKX71r

— Harry Turtledove (@HNTurtledove) June 24, 2023
New NBC New poll - '24 GOP WH

Trump 51%
DeSantis 22%
Pence 7%
Christie 5%
Haley 4%
Ramaswamy 3%
Scott 3%
Hutchinson 2%

---
General Election Match-ups

Biden 49%
Trump 45%

Biden 47%
DeSantis 47%

— Steve Kornacki (@SteveKornacki) June 25, 2023
Am I the only one who doesn't know what the tv screen looks like when it shows "someone's laptop trying to connect to the TV." I wanted to be prepared for when I have my first psychotic break. https://t.co/RlF5wYnBlf

— Josh Marshall (@joshtpm) June 25, 2023
Gov. Sarah Huckabee Sanders pulled herself up by her own bootstraps, from her childhood home in the AR Governor's Mansion all the way up to her current home in the AR Governor's Mansion. Must be the content of her character. https://t.co/c1Z6VolySj via @arktimes

— Arkansas Times (@ArkTimes) June 30, 2023
Greg Abbott posts a fake item from the "Dunning Kruger Times" written by "Flagg Eagleton - Patriot" pic.twitter.com/P583zS06l0

— Christopher Hooks (@cd_hooks) June 25, 2023
Good point from Taleb.
About nothing in history has been more transformative than the automobile. Yet nothing would have bankrupted you more effectively than an investment in the auto industry.
Finance is the graveyard of first order reasoning.
(Robert is co-founder of #RWRI) https://t.co/r4nuPmeU9R

— Nassim Nicholas Taleb (@nntaleb) June 26, 2023
Sad Sacks and friends
The account he's talking about was claiming a Russian attack was actually a Ukrainian attack on Ukraine and had killed a lot Nato soldiers. Purportedly an account from Texas. Sacks jumped on board and now going with just asking questions. Sad. https://t.co/Ssbn6onHhT

— Josh Marshall (@joshtpm) June 28, 2023
No wonder Silicon Valley is so screwed up. LoL.https://t.co/cuImNxG2Bm

— Zero Shorts (@zeroshorts) June 28, 2023
"Moment Tesla nearly blows stop sign during self-driving test" https://t.co/unjeGihnEU via @MailOnline

— Stanphyl Capital ❌ (@StanphylCap) June 25, 2023
"I would totally kick your ass, but my mom won't let me," is perhaps the funniest outcome of this whole scenario. pic.twitter.com/tDvz3rn2u9

— Mollie Heckerling (@mollieschmollie) June 26, 2023
Never cared for the show, but I have to admit this is a great tweet.

'Later that day I started to wonder..are all men like Prigozhin..making big spectacular gestures but then refusing to commit at the pivotal moment? Was I, like Putin, running scared from true love? Was Miranda my Lukashenka, trying to pick up the pieces of my bad choices in men?' pic.twitter.com/IYxNt86hMD

— John Paul Newman 🌻 (@johnpaul_newman) June 25, 2023
Today in tech with Grady Booch.

The noise to signal ratio of the Web is worsening.https://t.co/HLROxTjXLe

— Grady Booch (@Grady_Booch) June 27, 2023
"Do LLM understand?" is a question that yields passionate answers.

As for me and my house: no, LLMs do not reason and in fact are architectural incapable of reasoning.

Let's unpack that.

— Grady Booch (@Grady_Booch) June 27, 2023
This I found useful https://t.co/xpBsl8nfA1 wherein the author observes "The enemy of knowledge is not ignorance, but rather the illusion of knowledge; the feeling of understanding."

— Grady Booch (@Grady_Booch) June 27, 2023
Indeed; a great thread, Noah.

We and our machines....we co-evolve. https://t.co/Lqtbh06TVR

— Grady Booch (@Grady_Booch) June 25, 2023
And one for the 4th of July weekend.
These gender reveal parties, man… https://t.co/HtlfdvCW6J

— Charles Gaba isn't paying for this account. (@charles_gaba) June 29, 2023